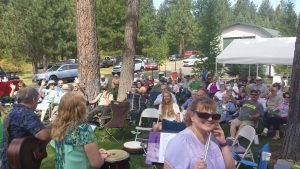 CHURCH ON THE MOUNTAIN
Sunday, August 12, 2018 ~ 10:30 a.m.
Escape the heat and join us, along with SonRise Church from La Grande and Community Presbyterian Church from Umatilla, to worship in God's natural cathedral!
It's just 15 miles east of Pendleton on I-84 at the Brill's home. Maps available at church on Sunday mornings, or call the office at 541.2676.3987 for maps/directions, or carpool with some Cornerstone people! Come early. Stay late. Bring a side dish, salad &/or dessert to go along with meat & beverages provided by Cornerstone!!  (Lawn chairs would be good to bring too, although some folding chairs will be provided.)
A great day is in store for all, to the glory of God amid His glorious creation!